The Rising Tide of Prices from 2019 to Today:
Prices have risen significantly from 2019 to today. Key items like bread, milk, and beef have seen substantial hikes. The cost of used cars and some fast food items, including the Big Mac, have also increased, and housing prices in the Los Angeles/Orange County metro area have gone up by 40%. Despite potential cooling, these high prices are expected to persist.
| Item/Product | Price Increase |
| --- | --- |
| Loaf of bread | 55% |
| Milk | 31% |
| Ground beef | 34% |
| Potato chips & 2-liter soda | 48% |
| Used cars | 41% |
| Big Mac | 38% |
| LA/Orange County housing | 40% |
Insight into the Housing Market:
As we peer into the future of the housing landscape, projections by Freddie Mac suggest that 30-year mortgage rates will hover just under 6% by the close of 2024. A noteworthy observation is that over 80% of homeowners in California currently enjoy mortgage rates below 4%. Given this data, it's improbable that we'll see a surge in homes being listed for sale. In fact, with such a limited inventory, there's a plausible chance of house prices escalating further. Sellers, this is your moment: ensuring your home mirrors the pristine, immaculate feel of a model home can be a game-changer. Price it right, and buyers will be at your doorstep. On the flip side, buyers should prioritize securing their financing in advance. And never forget the intrinsic value of an Orange County property. Over time, your investment is likely to appreciate handsomely. After all, there's an unmatched allure to OC – truly, there's no place like it.
The orange county market breakdown
This chart provides a breakdown of the real estate market in Orange County, segmented by price range and a 'market speed tester' column on the left side. Analyzing this data offers some compelling insights: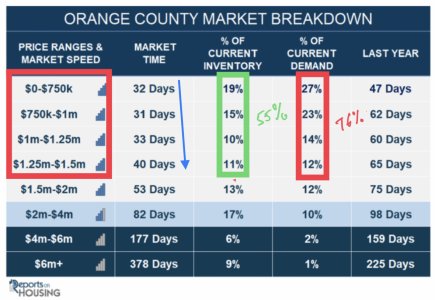 Lower-Priced Homes: Homes priced below $1.5 million constitute approximately 76% of the market sales and 55% of the inventory. This disparity indicates a higher demand than supply in this price segment. Further emphasizing this point, the blue arrow suggests that market timing - or how quickly homes sell - has reduced significantly for homes in the $0 to $2 million range compared to the previous year. Simply put, the more presentable and functional a home in this bracket is, the quicker it is likely to be sold.
High-Priced Homes: In contrast, homes priced over $6 million are moving slower this year compared to the last. While they represent only 1% of the market demand, they account for nearly 10% of the inventory. This mismatch implies a surplus of these high-priced homes relative to buyer interest.
Affordability: The general principle highlighted is that the more affordable a home, the higher the number of prospective buyers. Consequently, there's more competition among buyers, leading these homes to be sold faster.
In light of these observations and the predicted interest rates, there are no indications of an impending real estate market crash or a decline in property values. If anything, the market is expected to remain at least as strong in the upcoming year.
About the Author
Dar Mardan, a seasoned realtor at Pacific Sotheby's International Realty, is your guide to all things real estate in sunny Orange County. With an emphasis on informed decisions and an array of knowledge spanning real estate, tax strategies, trusts, and more. Dar alongside his talented wife, Vida, offer a comprehensive, personalized approach to serve clients' real estate needs.